Brand Activation & Experiential
The Continente Food Fest is a dynamic culinary event hosted by Portugal's Continente market chain, uniting food lovers, local producers, and renowned chefs. Showcasing diverse flavors and trends through tastings, live demos, and interactive experiences, it's a must-attend for anyone eager to explore and savor the world of food. I was responsible for the event identity, which is still being used for the past 5 editions.
The launch of the Samsung QLED TV at the Ajuda Palace was a captivating fusion of technology and heritage. Against the backdrop of the historic palace, Samsung unveiled its cutting-edge GLED TV, showcasing stunning visuals that harmonized with the regal surroundings. This juxtaposition of modern innovation within a centuries-old setting created an enchanting atmosphere, where the future of entertainment met Portugal's rich past, leaving attendees in awe of the seamless blend of tradition and advancement.
The Ascendum Auto branch opening was transformed into an event by a renowned illustrator's live show. Through dynamic live illustration, the journey of Ascendum Auto's success was vividly portrayed, infusing the celebration with innovation and artistry that left a lasting impression.
In partnership with the George P. Johnson Agency, IBM's Think event in Portugal brilliantly merged technology and creativity, delivering insightful presentations and interactive showcases that showcased the boundless potential of the digital era.
Proposal for an annual prestigious event hosted by the Portuguese media outlet NIT, celebrating outstanding individuals and initiatives that have made remarkable contributions in areas such as innovation, culture, entrepreneurship, and social impact, while also fostering a sense of community and inspiration.
I was involved in the design of a range of dynamic events for Fidelidade, the prominent insurance company in Portugal, infusing each with creative flair and strategic insight. Through careful planning and innovative design, I ensured that every event aligned seamlessly with Fidelidade's brand identity and objectives, leaving a lasting impact on attendees and contributing to the company's success.
In a thrilling promotional stunt, Samsung Store invited young adventurers to win a ski trip by flocking the store donned in layers of snow gear, competing to shed the most weight within a set time. The event sparked widespread excitement, drawing lengthy queues in the shopping mall where it unfolded.  I spearheaded both the visual design and conceptual strategy for this project, ensuring a seamless fusion of creativity and purpose. The activation's success stands as a testament to the innovative approach that combined captivating visuals with a well-thought-out concept, creating a memorable experience that resonated with the audience.
The BA GLASS internal event highlighted their strong focus on sustainability within the glass industry. Through informative sessions and engaging workshops, employees were inspired to embrace eco-friendly practices and contribute to a greener future.
Unicre's captivating internal event, aptly named "Out of the Box," delivered a refreshing experience that ignited creativity and collaboration. Attendees were challenged not only to think beyond conventional boundaries but also to literally build their own box seat, symbolizing the company's commitment to innovation and fresh perspectives. Through engaging activities & thought-provoking sessions, it conveyed Unicre's dedication to pushing boundaries and nurturing a dynamic workforce.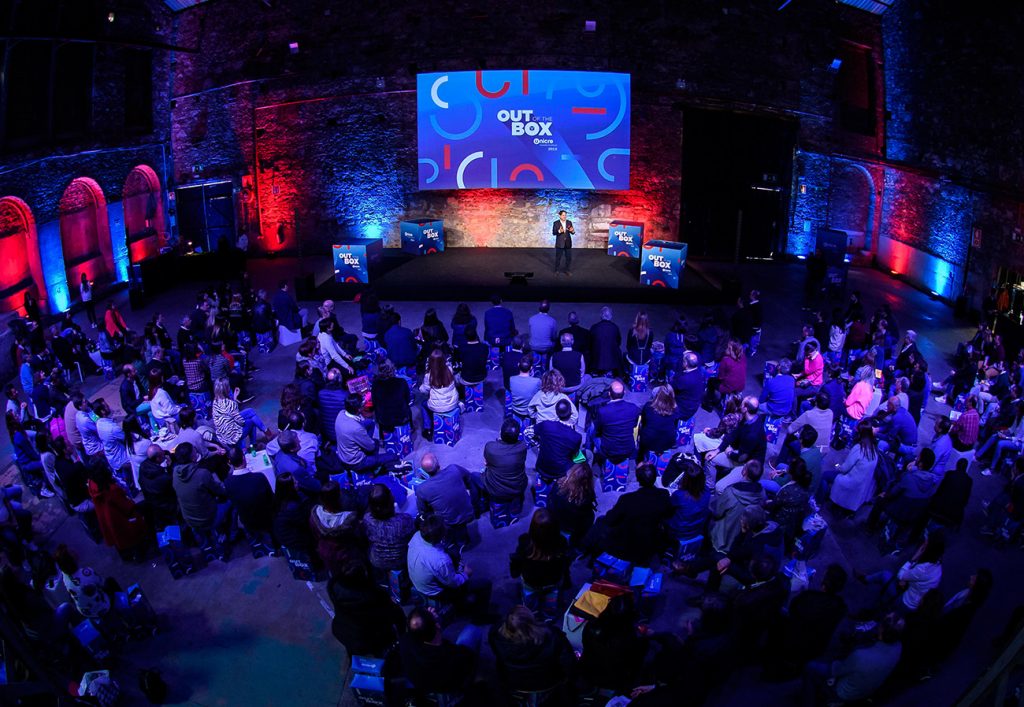 "Electric Drive-In" emerged as a visionary project during the pandemic, ingeniously combining the promotion of electric cars with safe entertainment during lockdown. This innovative concept allowed individuals to experience both the thrill of electric vehicles and the joy of entertainment, all from the security of their cars. By offering a unique and responsible way to engage with electric mobility while adhering to safety measures, Electric Drive-In stood out as a shining example of adaptability and creativity during challenging times.
HOSPITAL WING INAUGURATION
The inaugural celebration of the new hospital wing at Hospital da Luz, one of the largest and most esteemed health institutions, marked a momentous occasion in the institution. The event captured the spirit of progress and commitment to patient well-being, as attendees gathered to commemorate the expansion. This milestone represented a dedication to providing exceptional medical care for the community, reinforcing Hospital da Luz's position as a leader in healthcare innovation.
Experiential & Activation
As Creative Supervisor and founder of an Experiential Activation team at Pepper, I'm proud of establishing the agency as an industry leader, earning the Agency of the Year Award. I skillfully managed the design team, guiding them through the creative process and developing impactful concepts focused on Experiential Marketing and Guerrilla strategies. This is just a glimpse of our many projects and initiatives that fueled growth and success.
NEW IN TOWN - STREET MARKET
This market provides a platform for local creators to showcase their innovative products in a bustling atmosphere. With a diverse array of offerings, from art and fashion to artisanal goods, the market encapsulates Lisbon's creative essence while fostering a sense of community and supporting the growth of independent businesses.